Public Safety
Reporting Spills, Emergencies
U.S. EPA
Other Federal Departments and Agencies
States/Other

Issue Summary
Each year, more than 20,000 emergencies involving the release (or threatened release) of oil and hazardous substances are reported in the United States, potentially affecting both communities and the surrounding natural environment.
Local governments have the responsibility to protect their community's health, safety, and welfare from events such as these by managing:
First response (e.g., fire, police, emergency medical, and search and rescue)
Public works (e.g. debris removal)
Infrastructure (e.g., water, sewer, transportation, energy)
Code inspection and enforcement
Finances
Public communications and others.
These responsibilities include preparedness, response, and recovery to everyday incidents and catastrophic events that are natural disasters or human caused. As a part of their responsibility, local governments must ensure steps are taken to prevent and respond to oil spills, chemical accidents, and other environmental emergencies.
Spill Prevention, Control and Countermeasure (SPCC) Rule Overview
On November 5, 2009, the EPA Administrator signed a notice amending certain requirements of the Spill Prevention, Control, and Countermeasure (SPCC) rule in order to address additional areas of regulatory reform that have been raised by the regulated community. The November 2009 amendments revise the December 2008 amendments as a result of EPA's review of comments and consideration of all relevant facts. EPA is either taking no action or providing minor technical corrections on the majority of the December 2008 provisions.
EPA published a "Final Rule to Amend Compliance Dates for SPCC Rule" in January 2009.
This was withdrawn from the Federal Register in accordance with the "Regulatory Review" White House memorandum and never promulgated. On June 19, 2009, the compliance date extension for all facilities (including farms) until November 10, 2010 was published. In the November 2009 final action, EPA committed to proposing an additional extension of compliance date.
For more information:
2008 SPCC rule amendment Federal Register notice (73 FR 74236; December 5, 2008)
Complete Oil Pollution Prevention regulation (40 CFR part 112)
EPA Emergency Management Web Site
Superfund, TRI, EPCRA, RMP, and Oil Information Center

(800) 424-9346 or (703) 412-9810
There is additional help available for facilities that must prepare, or amend and implement Spill Prevention, Control and Countermeasures (SPCC) Plans to address the potential for a discharge of oil. A Facility Response Plan (FRP) demonstrates a facility's preparedness to respond to a worst case oil discharge. Under the Clean Water Act, as amended by the Oil Pollution Act, certain facilities that store and use oil are required to prepare and submit these plans. Learn if the rule applies to your facility and the latest requirements with the guide here: http://www.epa.gov/emergencies/content/frps/index.htm.
See more SPCC guidance, fact sheets, and policy on SPCC at Oil Spills Prevention and Preparedness Regulations
To report:
Oil and/or chemical spills,

Radiation emergencies, and

Biological discharges
Call National Response Center at 800-424-8802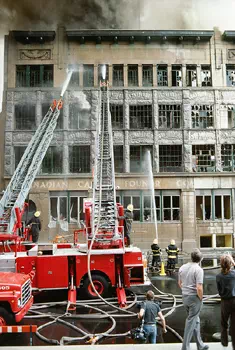 Where You Live
Emergency management activities are coordinated between local organizations (including local fire departments), the ten EPA regional offices, and EPA headquarters in Washington, D.C. See the link above to learn about emergency management and responses in your region.
Meet Our Emergency Management Partners
EPA offers national-level support for emergency management. State, local, and tribal governments, along with other federal agencies, play a critical role in preventing, preparing for, and responding to emergencies of all kinds.
Emergency Planning and Community Right-to-Know Act (EPCRA) Requirements
These requirements help communities prepare for and respond to chemical accidents by requiring facilities to report chemical storage and release information and communities to develop emergency response plans.
Federal Funding for Utilities - Water/Wastewater - in National Disasters (Fed FUNDS). The purpose of Fed FUNDS is to provide tailored information to water and wastewater utilities about applicable federal disaster funding programs. The Fed FUNDS Web pages address national-level disasters, but could also apply to large-scale and even local disasters that result in service interruptions and significant damage to the critical water/wastewater infrastructure.