Fire Protection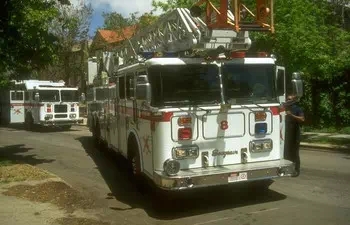 Fire departments are typically responsible for emergency planning and emergency mitigation, including fire response and suppression (i.e., firefighting) and hazardous materials response. In this role, fire departments attempt to safeguard lives and property against the injurious effects of accidents or uncontrolled hazards, fire, explosion, or hazardous materials. Fire protection activities have the potential to impact the environment and are regulated under U.S. environmental laws and regulations. These activities related to fire protection and the respective regulations are presented below:
Activities with aspects regulated under RCRA

Activities with aspects regulated under the CWA

Activities with aspects regulated under the CAA

Activities with aspects regulated under EPCRA/CERCLA/CAA
Fire Departments may be appointed to LEPCs under the emergency planning provisions of EPCRA. In this role, they analyze community hazards and help develop and revise local emergency response plans to prepare for and respond to chemical emergencies. In addition, fire departments receive hazardous chemical inventory and emergency release information submitted by facilities and can provide this information to local officials, community leaders, and the public to aid in preparing for emergencies and managing chemical risks.
LGEAN resources most applicable to fire protection include:
Public Safety. Provides a summary of issues including national waste generation rates, landfill capacity problems, and landfill and incinerator regulations. This resource also includes links to numerous useful documents.

Hazardous Waste. Many local governments must deal with hazardous wastes both as a hazardous generator and as the responsible entity for protecting landfills and other municipal solid waste collection/disposal operations from hazardous waste disposal. Use this resource to learn more about federal and state rules.
Additional resources (exit LGEAN):
Ozone Layer Depletion - Alternatives / SNAP, Fire Suppression and Explosion Protection. Fire suppression and explosion protection have used halons in many applications because they are electrically non-conductive, dissipate rapidly without residue, are safe for limited human exposure, and are extremely efficient in extinguishing most types of fires. Because of their strong ozone depletion potential, the Montreal Protocol required the earliest production and import phase-out of halons in the U.S. in 1994.
---
LGEAN City