Landfills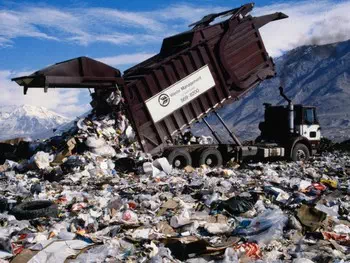 Local governments often own and operate a solid waste landfill for final disposal of the majority of solid waste generated within the local government's jurisdiction. While new approaches to managing municipal solid waste, such as encouraging source reduction and increasing incentives for recycling, have reduced the burden on existing landfills, there will always be a need for land disposal.
LGEAN resources most applicable to landfills include:
Solid Waste. Provides a summary of issues including national waste generation rates, landfill capacity problems, and landfill and incinerator regulations. This resource also includes links to numerous useful documents.

Hazardous Waste. Many local governments must deal with hazardous wastes both as a hazardous generator and as the responsible entity for protecting landfills and other municipal solid waste collection/disposal operations from hazardous waste disposal. Use this resource to learn more about federal and state rules.
Construction and Demolition Debris. Provides an overview of C&D debris issues and links to useful documents and tools.
Groundwater. Groundwater replenishes our streams, rivers, habitats and also provides fresh water for irrigation, industry, and communities. Provides EPA published Ground Water Rules (2006).

Additional resources (exit LGEAN):
---
LGEAN City